Original Subscription Price - $67.90
A melatonin alternative. Crafted with natural herbs and minerals that target the most critical parts of the sleep journey for your best next-day self.
View full details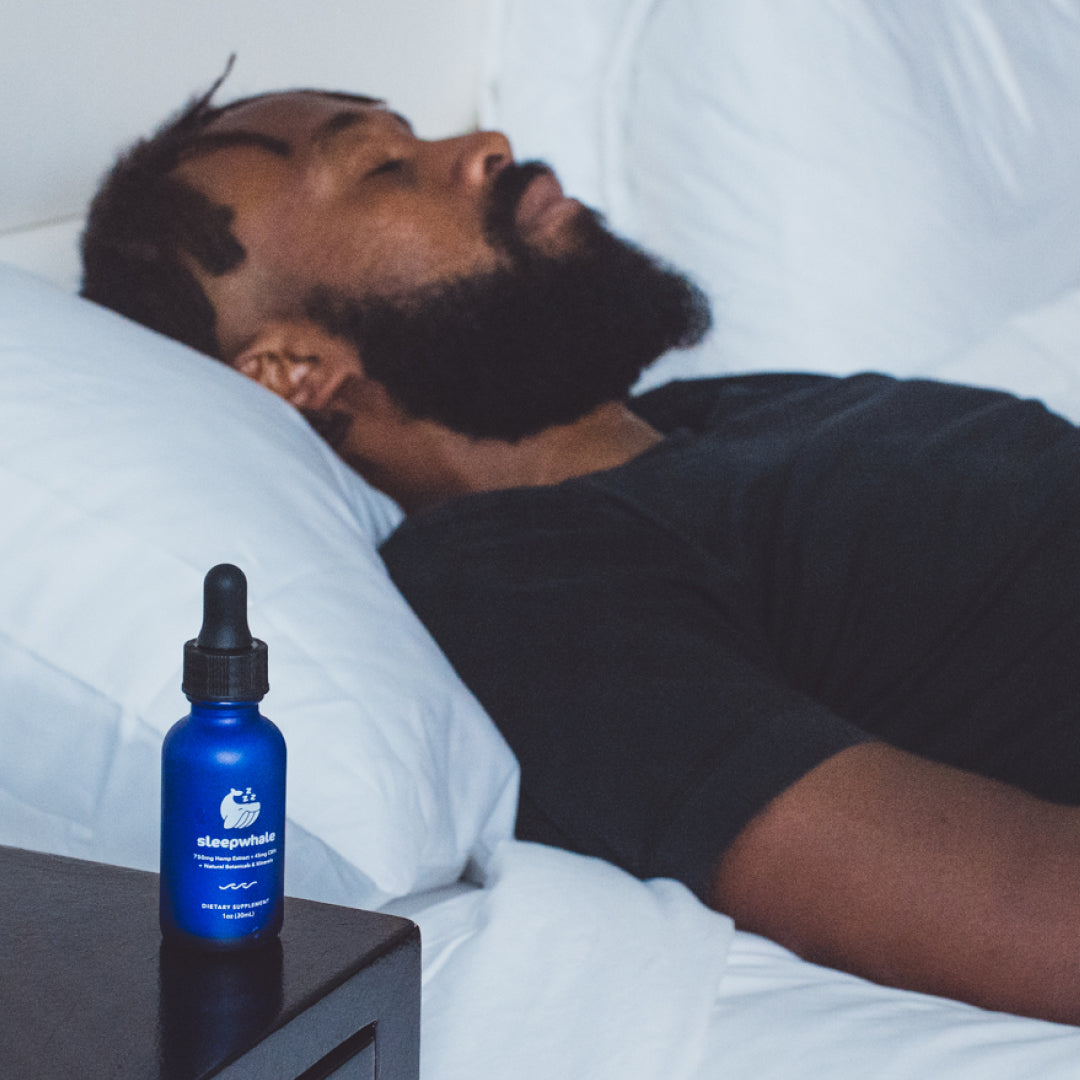 HAPPINESS GUARANTE

30 night risk free trial. If you don't sleep better, it's on us
Our Ingredients
Broad-Spectrum Nano Hemp → Maximize deep sleep and sleep with less disruptions

Organically raised on our farm in the USA. We use broad-spectrum hemp (0.00% THC) so that there are no trace elements of THC. Known for its calming effects on the mind and body for anti-anxiety, stress relief, and anti-inflammatory properties. Also helps regulate mood, homeostasis, and the immune system. Critical to optimize deep sleep.
CBN Isolate → Fall asleep faster and maximize deep sleep

Organically raised on our farm in the USA. Our CBN isolate is as pure as it gets with no trace amounts of THC (0.00%). Known as the sleep cannabinoid because of its sedative properties in improving quality of sleep. By working in synergy with broad-spectrum hemp, this will help maximize the required time in deep sleep to feel rested the next day.
Suntheanine® → Turn off an excited mind and improve sleep quality

L-Theanine occurs naturally in tea; it is the key component of tea that imparts a sense of relaxation. Suntheanine® has been recognized as one of the most effective ingredients for stress, relaxation, and improved quality of sleep. It is an extremely pure L-Theanine and the only natural and active Theanine form in existence. Suntheanine® has done over 200 scientific and clinical studies in the areas of stress, relaxation, memory, and sleep and holds over 40 U.S. and international patents.

Gadomag+ → Helps regulate the sleep-wake cycle

Gadomag+ is an incredibly high quality magnesium extracted from the Dead Sea. Magnesium binds to your GABA receptors, which is responsible for quieting down nerve activity. It also regulates the hormone melatonin which guides the sleep-wake cycle.
M2 Lion's Mane →  Enhance REM sleep and cognitive support

We use organic lion's mane locally raised in Carlsbad, California from M2 Ingredients. This mushroom has been used for thousands of years in traditional Chinese medicine and is known for its powerful cognitive-boosting abilities. Scientific studies report the synthesis of NGF (nerve growth factor), a protein that promotes the growth and normal function of nerve cells. NGF is important for cognitive and neurological health. We love this mushroom because it has been linked to increase REM sleep, helping us recharge our minds.
Sibelius™ → Calming effects

Sibelius™: Chamomile is a scientifically evidenced, high-quality Roman chamomile extract that promotes restful sleep and relaxation naturally. Derived from a proprietary, non-GMO cultivar of Roman chamomile grown in the UK, this herb has strong antioxidant, sleep health and calming benefits.
HOW TO USE IT
Great Sleep is 15 Minutes Away
1.Take 15 minutes before bed time
2. Drop under tongue and hold for 2 minutes
3.Get cozy, close eyes, and drift off
4.Have the best sleep you've ever had